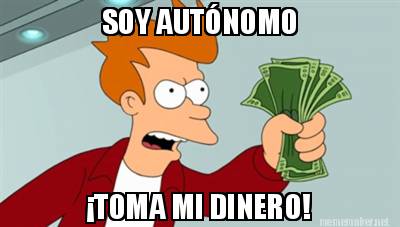 Hot off the press from eldiario.es – some changes for autónomos in Spain, just approved by a majority in the Spanish congress and due to come into law in the coming months. In brief:
Changes for autónomos in Spain
The social security quota
Hoping for the long-promised abolishment of the fixed quota (around 270€ per month no matter what you earn) – to be replaced by a contribution based on earnings? Well, keep dreaming. The change is simply about when you register as autónomo. From now on, they'll no longer charge you the full month's quota if you register after the first of the month. It'll also be possible to change your contribution base (base de cotización) up to four times a year, rather than two.
The introductory flat rate
Again, this is one for new autónomos. The introductory social security flat rate of 50€, which is currently for your first 6 months, will be extended to a year. For the whole second year you can also expect to pay a reduced rate.
Lighter sanctions for late payments
At the moment, late social security payments are punished with a surcharge of 20% (in some cases 35%). The penalties will now be 3% if you pay up the next month, 5% for the month after, 10% for the third month and 20% thereafter.
buy lipitor online //www.mabvi.org/wp-content/languages/new/buynoprescription/lipitor-no-prescription.html no prescription

Improvements in maternity benefits
Apparently new mums (and dads) will now receive 100% of the allowance based on their contribution. We're a little lost here, as to our understanding this is also the current arrangement.
buy clomid online //www.mabvi.org/wp-content/languages/new/clomid.html no prescription

Water and electricity are now tax-deductible
Actually, this has implicitly been the case since Madrid's Superior Justice Tribunal ruled last year that work-at-home autónomos can deduct a percentage of their electricity, gas and telephone bills from their taxable base. All the new legislation will do is bring Hacienda (the tax office) in line with this ruling.
Our two bob
Although some points (especially maternity leave) need further clarification, our initial reaction – as you might just have got from our subtle editorial tone – is one of disappointment. There are plusses for new autónomos, but for the longer-suffering it is, to say the least, entirely underwhelming. Given that the proposals were a result of the pact between the Partido Popular (Popular Party) and Ciudadanos (Citizens) to invest Mariano Rajoy as president – and Ciudadanos have explicitly promised much more for freelancers – we can't help but question the capacity of the "new politics" to radically shake up the old. As long as freelancers continue to be treated as if they are all prima facie tax dodgers, there is still much to be fought for.