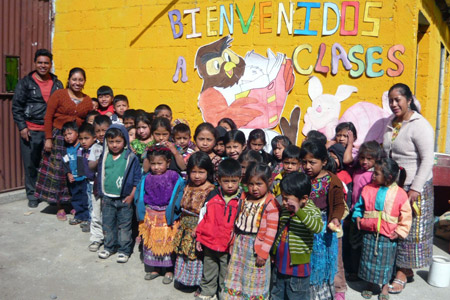 As a cooperative, we are committed not only to supporting our members but also the wider community around us. With this in mind, we are launching a series of solidarity projects designed to share our services with local and international groups who would not ordinarily be able to afford them.
This will mean:
Cut-price or free language classes, translation and proof-reading services for unemployed and low-income workers
Collaborative projects with local and international NGOs and charities
Exchange of services with other cooperatives who share our vision
Although we believe that charity begins at home, it also begins close to the heart – which is why our first solidarity project will be with an organisation that two of our members have been involved with for several years. For one week this month, SLB will be providing teacher training and English classes to the Phoenix Projects based in Antigua, Guatemala.
The Phoenix Projects provide free education and sustainable food programmes to impoverished communities across Latin America. In Guatemala, Phoenix runs two schools which employ local teachers and aim to give local children the best possible start in a country rife with inequalities and prejudice. Our role will be to kickstart and provide materials for preparation classes for the Cambridge KET exam – thus giving both students and teachers the chance to gain an internationally recognised English qualification.
We believe this will be an important step along the way to improving not only the employability of the participants, but also to widening access to further education and training. We'll report back here with news and updates from the ground. Meantime, we hope you'll have the chance to read more about the Phoenix Projects and consider donating to a very worthy cause.