Quality services from language professionals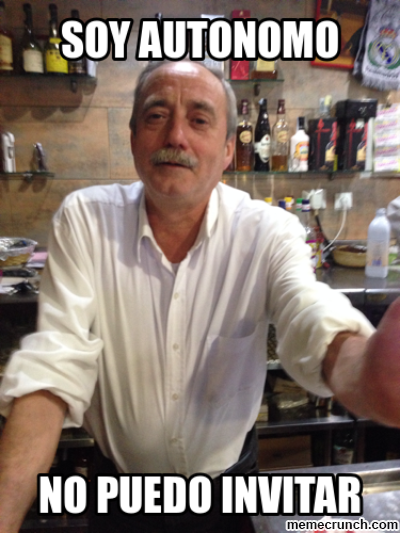 The answer to the question "Who'd be a freelance teacher?" will vary greatly according to your geographical location. In France, the answer might be "Quite a lot of people". Of course there are pitfalls, but for many French workers freelancing makes sense.
But if you're over the border in Spain, it will probably be: "Only mad people and teachers whose exclusive clients have maids". Because, sadly, it is notoriously difficult to be autónomo in Spain. They assume you will defraud the system, so they make you pay extra just in case – to be precise, a whopping €260 a month obligatory social security contribution. The result is that many people who want to work for themselves, particularly those in poorly paid professions, would rather defraud the system than become autónomo.
Which leaves our cooperative with something of a conundrum. We are an association of language professionals who, to quote the Catalan of our original statutes, work per compte propi, or "on their own account" – i.e. for themselves. But what does that mean for most language teachers in Barcelona, or no doubt in other places where private schools dominate the language-teaching sector?
In fact, most language teachers here do work per compte propi – because they have to. The contracts offered by local academies rarely represent more than a semblance of a full-time salary, so teachers seek out private students, or quite typically, private students seek out teachers. Meetings are arranged in cafés, photocopies are done sneakily at school, classes are delivered over coffee and cash will be placed in hand. The same goes for translations, proofreading, essay corrections.
There is no doubt that these teachers are working on their own account, but they are not autónomos in the eyes of the state. They are neither paying income tax nor social security and are probably not even aware that their non-payment of IVA (or VAT/sales tax) is actually legitimate (teaching curriculum subjects is currently exempt from IVA). But if you were to confront anyone about it, the reaction would be understandably dismissive. Working in the unofficial economy is – or at least has been up to now – worth the risk for most people, because the mere idea of becoming officially autónomo is enough to put the fear into anyone. The fear of being caught out by the taxman doesn't even come close – maybe because it never really seems to happen.
Of course, the Law of Cooperatives of Catalonia does not mean this type of freelancing when it says per compte propi, although the wording would make an interesting test-case (not that I'd like to tempt fate). As a result, our position is that although not all of our members have to be officially autónomo, at the very least the executive council does. And as president of that august organ I was the first to submit myself to this daunting and dubious challenge.
But – aside from the fact that I have to – given all that's been said above, why would I want to?
Answers in the next post, where I'll describe some of the positive reasons for becoming a freelance teacher – yes, even in Spain! We'll have a look at some recent and impending changes in Spanish law which make things significantly easier, and explain how SLB can help with the less attractive aspects. Meantime, please let us know what conditions are like for freelancers where you are, and whether becoming a freelance teacher makes any sense.
We really like these websites
... and we hope you do too!
Contact Details
You can also contact us via this page.
SLB Blog